Last Updated On
Sun Dec 08th, 2013
Drive Gold gives an advanced software trend analysis of Gold with the help of its advanced software and it helps the investor in making a right decision, at the right time. You just have to subscribe with Drive Gold, and after subscribing what you'll be doing is just setting up and 'Nothing', as Drive Gold does it automatically for you and MAKES MONEY.
Strategy
Drive Gold is an uncommon expert advisor trading gold. It launches trading by opening two positions, one long and one short. Then more positions are included in the predominating trend direction whenever a movement of a certain price takes place. This is being ended by closing all the positions once the basket over them has reached a known profit, after that a new turn is launched.
Assuming that the gold price follows a trend is the base idea of Drive Gold trading strategy. If the gold price moves in a slowly increasing range, long and short positions are almost evenly distributed to disallow the close of the basket. A final closure of the basket may requires several weeks or even months till a new trend formation is made.
Live Performance Results
Drive Gold Real Money - Xe Markets System by drivegold | Myfxbook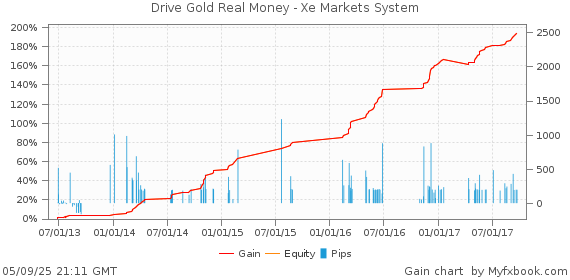 Drive Gold Real Money - Vantage Fx UK System by drivegold | Myfxbook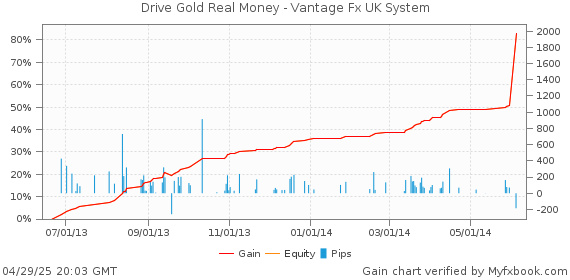 DRIVE GOLD System by pipsnpips | Myfxbook
Drive Gold Silver System by drivegold | Myfxbook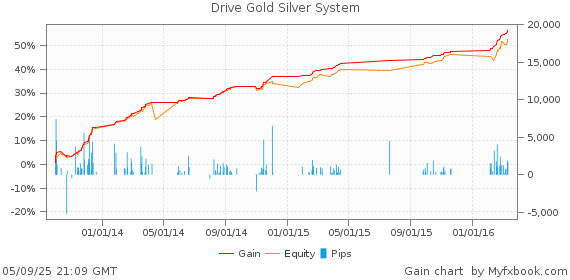 Drive Gold Special ( Low Drawdown / High Return) System by drivegold | Myfxbook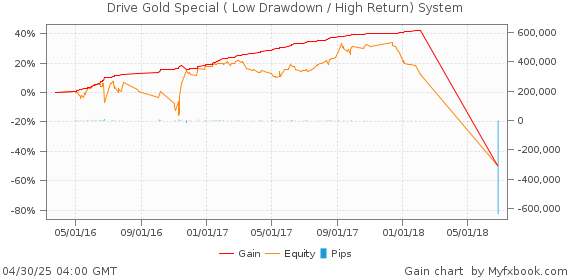 Backtests
Here is 2009 - 2013 span backtests for Drive Gold. The MetaTrader 4 Strategy Tester is displaying great swing due to the sequence of the basket positions closure which would take place nearly at the same time in a live trading during a few seconds.
The first backtest settings are not the defaults while the second backtest has applied its defaults during backtesting using a USD account of $2500 balance.
Drive Gold XAU/USD 50 pips spread 0.10 lots
Drive Gold XAU/USD 50 pips spread 0.01 lots
Drive Gold Info Summary
Version Used: 201
Pairs: XAUUSD, GOLDMI
Timeframe: M30
Talk about Drive Gold
Information, charts or examples contained in this review article are for illustration and educational purposes only. It should not be considered as an advice or endorsement to purchase or sell any security or financial instrument. We do not and cannot give any kind of financial advice. No employee or persons associated with us are registered or authorized to give financial advice. We do not trade on anyone's behalf, and we do not recommend any broker. On certain occasions, we have a material link to the product or service mentioned in the article. This may be in the form of compensation or remuneration.