Last Updated On
Wed Jan 22nd, 2014
The EA is designed and authored by FXAutomater the well known Wallstreet Forex Robot creators, they introduce their EA as a world-class complete, high performance trading system, a unique integration of trend and counter-trend strategies, smart money-management, dynamic trading parameter configurations and rapid trade execution as a result of THOUSANDS of hours of design, testing, and refinement..
It consists of 3 totally autonomous trading systems gathered together, it applies a dynamic trading logic, with self updating algorithm, high trading frequency and minimum required optimizations compared to other expert advisors. Its stop loss and take profit levels are dynamically calculated.
Regarding protection, it applies high slippage protection, high spread protection and profit protection systems, with a new option has never been before in older Forex robots, it's 40+ recovery factor.
Strategy
The EA implements 3 advanced market domination strategies; a combination of trend and counter-trend strategies, smart money-management, dynamic trading parameter configurations and rapid trade execution.
Forex Diamond is designed to trade with 3 proven market domination algorithms packed together:
Secure After-Retracement Strategy
Forex Diamond EA systematically filter and implement profitable trades using its Trend-Retrace Signal Strategy. With self-possession the algorithm applies well scrutinized trading parameters to make profits from the market trend while sheltering your gains.
Secure Counter-trend Strategy
Forex Diamond EA monitors the market for potential trend reversals using its Counter-trend Strategy once an opportunity is at target, Forex Diamond EA sets its trading parameters to maximize the profit from that trade.
This strategy allows profiting even in special market conditions.
Aggressive Counter-trend Scalping Strategy
Forex Diamond EA delicately and rapidly raises executed trades small spread using its Countertrend Scalping Strategy. It can fit even the most volatile markets by fast adjusting your trading parameters through its dynamic trading system.
40+ Recovery Factor
Recovery factor is what determines the EA ability to earn more compared to its losses, simply it equals the pip net profit divided by pip drawdown, for example if an EA earns 20,000 pips with a drawdown of 1,000 pips, then its recovery factor would be (20,000/1,000 = 20) and this is deemed very profitable, and such EA is expected to be using a very good trading strategy.
Forex Diamond EA authors stated that the EA can earns 40x more money than it loses, what means that its recovery factor can reach 40.
However, you always have the choice to run the EA on a single, choose the best couple according to your insight, or let it combine all of them.
You should take in consideration that the results will vary after the size of your account, your distaste to risk, outside market factors, and your overall strategy.
Live performance
Forex Diamond EA EURUSD & USDJPY System by forexdiamond | Myfxbook
Forex Diamond EA USDJPY System by forexdiamond | Myfxbook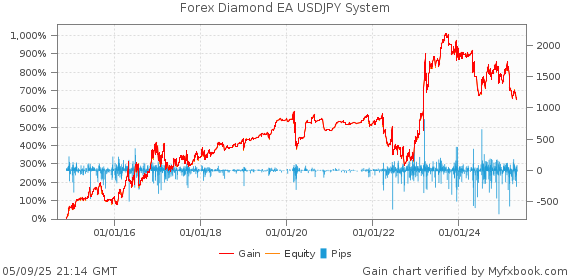 Forex Diamond EURUSD System by forexdiamond | Myfxbook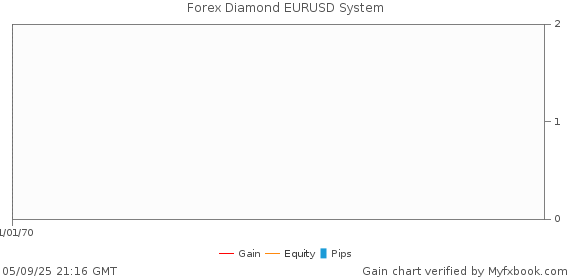 Forex Diamond v6.0 Tickmill System by fxrobotreviews | Myfxbook
$30 Welcome Account Just On Email Validation!
Key trading tools
Rapid Market Impulse Trading Levels
Forex Diamond automatically draws advantages of market volatility movement and brings it to the benefit of your trades, you can configure every trade after your trading strategy, or it can be automatically set guided by the current trading rules.
Optimal Money-Management
Forex Diamond EA automatically follows your open positions up and determines the optimal profit levels at which each trade is closed out.
High Frequency Trading
More than 1,200 trades can be executed per year through Forex Diamond EA trading algorithms.
High Slippage Protection
Slippage which is the most profit reducing factor and is a result of faulty EAs that can't calculate and execute trades at the optimum time, and this is frequent during high volatility trading sessions with rapid market reversals and price vicissitudes.
Forex Diamond EA greatly minimizes the chances for slippage by executing trades quickly at the right moment
Spread Protection
A good spread trading opportunity can vanish in moments or may even turn into a loss if your EA didn't execute the trade immediately, this is most prominent in highly volatile markets.
Forex Diamond EA doesn't need your intervention to dynamically calculate the correct trading parameters and execute a trade, locking in your profits and gaining even from quickest spread opportunities.
Profit Protection
Forex Diamond applies the maximum protection to your profits by combining high slippage protection, spread protection, and a special trading logic, each of which is sufficient to cover the desired protection while a triple combination of them is ensures a highest level of protection.
Self-updating
The market condition changes are a trigger and a guide for Forex Diamond update system, it automatically accommodates to these constantly successive fluctuations.
Backtests
GBPUSD 14-Year Backtest, Fixed Lots
GBP/USD - Fixed Lots - 99% Modeling Quality
GBP/USD - 1% Risk + Recovery - 99% Modeling Quality
GBP/USD - 2% Risk + Recovery - 99% Modeling Quality
Bottom line
Forex Diamond EA proves that it's a promising Forex robot and to be a consistent, reliable, profit making machine.
BUT
Let not one that says it's there an EA that can double your money in a week, or can make you a millionaire in a month, these are just marketing stuff to fool those who wish get rich-quick without mind realization and making the right decision.
Forex Diamond Info Summary
Version Used: 6.0
Pairs: GBPUSD and EURUSD are recommended while USDJPY and USDCHF are supported too.
Timeframe: M15
Visit Forex Diamond 6.0 Website
Get Forex Diamond Single
Get Forex Diamond Full
Latest Forex Diamond News and Updates
Talk about Forex Diamond
Information, charts or examples contained in this review article are for illustration and educational purposes only. It should not be considered as an advice or endorsement to purchase or sell any security or financial instrument. We do not and cannot give any kind of financial advice. No employee or persons associated with us are registered or authorized to give financial advice. We do not trade on anyone's behalf, and we do not recommend any broker. On certain occasions, we have a material link to the product or service mentioned in the article. This may be in the form of compensation or remuneration.