Last Updated On
Sat Nov 09th, 2013
Forex Warrior is a Grid expert advisor, it remains in the market along the day hours opening long and short positions simultaneously applying a precisely selected strategy based on martingale, pending Buy Limit/Sell Limit orders are used by the ea adding trades to the basket to secure an ideal basket structure and oppose trading orders slippage while the prices move fast.
Forex Warrior applies a superb "trading with trend" feature through which it analyses the market conditions to detect its main trend then sets the trading lots and takeprofit levels in accordance with its direction, this gives the expert advisor a magnified chance to maximize the profits and minimize the drawdown, every trading order opened by Forex Warrior has a specific stoploss level.
Safety advantages of Forex Warrior are so reassuring, it permits you to set trading risks after your individual settings and keeps your account balance safe when a market turbulence takes place, Forex Warrior in one of the rare Forex Robots that proved their ability to make profits through a long live trading period of time.
Strategy
Applying a Grid strategy, Forex Warrior opened trades in a certain direction; long or short, are gathered together, each of these groups is now a "basket", a market order is the first trade launcher, Forex Warrior then adds new trades to the existing basket using BUY LIMIT/ SELL LIMIT orders, these successive added trades are now the "levels". The Take Profit "TP" value is the same for all the basket trades, so the basket closes completely at once if the price reached this TP, then a new basket is to be opened.
Starting with the third level, new levels are opened with rising lot size in comparison to the preceding one, the real lot size is counted on that of the first level by guided by the user selectable lot multiplier, this enables Forex Warrior to trade in counter-trend regime and make large profits by closing the basket once the price trend started to fall back by the value provided by the TP.
In its core, Forex Warrior remains awake in the market 24/7, making profits from the prices up and down moves, able to combine trading in both short and long directions, why it uniquely maximizes the profits in an active market and attains a hedging effect when there is market trend.
Forward Tests
Forex Warrior live performance is displayed here through 4 different Myfxbook verified forward tests with live accounts each is using the EA with different settings.
Mt4-2693243 System by Forex_Warrior | Myfxbook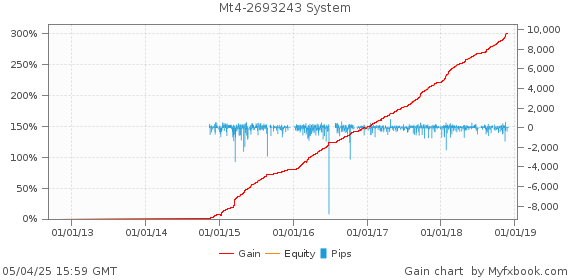 Mt4-184941554 System by Forex_Warrior | Myfxbook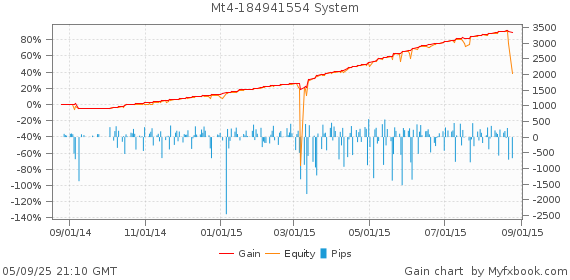 ForexWarrior.net GBP/USD_set2 System by Forex_Warrior | Myfxbook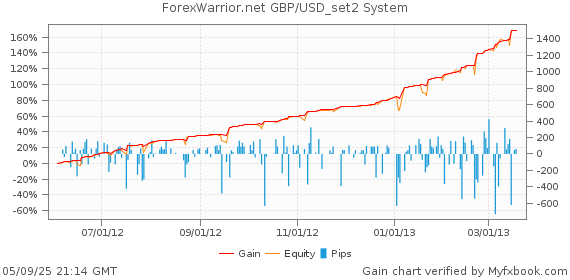 No Deposit $500 Bonus with Withdrawable Profit on Real Accounts!
Forex Warrior System by forexmonitor | Myfxbook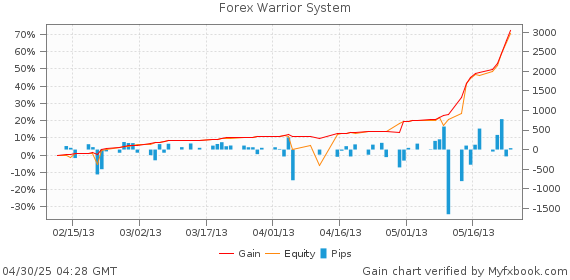 Alpari Forex & Investment Trusted by Millions Worldwide, Make your Money Work for you!
Parameters
If the No-Hedge requirement was set by your broker, this limits you to just buy or sell orders at a given time, setting Forex Warrior parameters Flag_Stop_Buy or Flag_Stop_Sell to TRUE will push the EA to act just in the chosen direction. You can bypass this limitation caused by your broker by using two copies of Forex Warrior, each of which is trading in only one direction, on a separate account.
You can perform conservative trading by setting OpenOnlyOnTrend parameter to TRUE, so that a new basket can be opened only in the global trend direction.
The maximal allowed drawdown in trading can be limited by Forex Warrior too, through a large variety of advantages provided by the EA. MaxDD and MaxDDPerCent parameters gives the EA the ability to assign the maximal allowed drawdown in base currency units and in % of the account balance, so through this parameter you can determine the part of your balance that you decided to risk with in trading. While a large portion of your balance is needed by Forex Warrior to trade with, it shouldn't exceed 50% if appropriate configuration and money management is applied
The low equity flag is another great safety measure which allows Forex striker to stop opening any new grid levels in a basket if the available amount of money is insufficient for a new order to be placed and for the next price move against the basket until the next grid level. This is a built in check process performed by the EA and can be turned on and off by switching the parameter CheckEquity TRUE or FALSE.
As mentioned before, every order in the basket has its own specific Stop Loss SL, beside that, Forex Warrior has a more SL control imposer by determining a Stop Loss for the basket as a whole. BasketStopLoss parameter is the parameter that turns this option ON, through which the SL of the basket highest level which is preset by MaxGridLevel parameter, so if the price reaches this assigned BasketStopLoss point against the basket, it will be closed totally.
Backtests
Here is 2009 - 2012 Forex Warrior backtests, you should consider that in 2009, the EA was not doing good at all even when set to low risk.
Forex Warrior, GBP/USD, 2009 - 2012, 2 pips spread, low risk
Forex Warrior, GBP/USD, 2010 - 2012, 2 pips spread, low risk
Forex Warrior, GBP/USD, 2010 - 2012, 2 pips spread, set 2
Bottom Line
Forex Warrior has proven itself as a dependable Expert Advisor that can make important profits and has many advantages over other known Forex robots in the market now, but as it's applying such a risky strategy - grid strategy - Forex Warrior should be handled cautiously.
Forex Warrior Info Summary
Version Used: 9.0.2
Pairs: GBPUSD
Timeframe: H1
Get Forex Warrior 3 Months
Get Forex Warrior Full
Talk about Forex Warrior
Information, charts or examples contained in this review article are for illustration and educational purposes only. It should not be considered as an advice or endorsement to purchase or sell any security or financial instrument. We do not and cannot give any kind of financial advice. No employee or persons associated with us are registered or authorized to give financial advice. We do not trade on anyone's behalf, and we do not recommend any broker. On certain occasions, we have a material link to the product or service mentioned in the article. This may be in the form of compensation or remuneration.