Last Updated On
Sat Aug 29th, 2015
Trading Strategy
FXOxygen
has two trading modes; a secure (reliable) mode and a boost (aggressive) one, either of which uses the EA unique built-in formula to open trades within certain hours every day.
It has a smart drawdown control system that will not allow your balance to be exposed to loss greater than what you've specified in the EA settings.
This makes
FXOxygen
always in profit even after loss.
FXOxygen System by FXOxygen | Myfxbook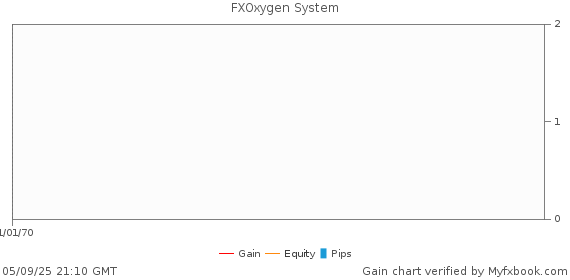 No Deposit $10 Welcome Bonus to Your First STP Account
FX Oxygen EURUSD USDJPY Tickmill System by fxrobotreviews | Myfxbook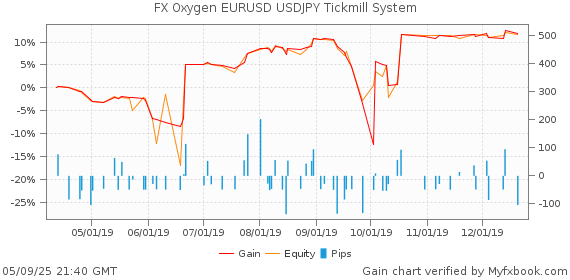 $30 Welcome Account Just On Email Validation!
Input Parameters and Settings
Auto_Lot: The part of your account balance in percent which the FXOxygen is allowed to trade and automatically set the lot size according to it.
Secure_System: The reliable long-trem profits trading mode.
Boost1_System & Boost2_System: The short term high profits modes with different values for TP, SL and trades opening timing.
Secure_Lot, Boost1_Lot & Boost2_Lot: It can be set to the desired lot size if Auto_Lot is set to "0".
Auto_GMTOffset: To detect the broker GMT automatically.
Manual_GMTOffset: It can be set to the desired GMT if Auto_GMTOffset is set to "false".
Slippage: It can be set to the desired Slippage manually, but be cautious when you modify this parameter.
MiniLot_Account: It should be enabled only for accounts with mini or micro lots not for standard and cent accounts with normal lot.
Backtests
FXOxygen has successfully passed a 10 year backtest with excellent results:
Boost Mode Backtests
This mode can be used to gain large profits in a short period of time, but it's still dangerous for your account.
EURUSD Boost (extremely profitable) Mode
USDJPY Boost (extremely profitable) Mode
Secure Mode Backtests
This mode is more safe and is recommended for long term profits generation.
EURUSD Secure Mode Since 2006
USDJPY Secure Mode Since 2006
FXOxygen Info Summary
Pairs: EURUSD and USDJPY
Timeframe: M30
Visit FXOxygen Website
Get FXOxygen
Talk about FXOxygen
Information, charts or examples contained in this review article are for illustration and educational purposes only. It should not be considered as an advice or endorsement to purchase or sell any security or financial instrument. We do not and cannot give any kind of financial advice. No employee or persons associated with us are registered or authorized to give financial advice. We do not trade on anyone's behalf, and we do not recommend any broker. On certain occasions, we have a material link to the product or service mentioned in the article. This may be in the form of compensation or remuneration.