Last Updated On
Sun Jun 21st, 2015
FxStabilizer was designed to need no certain experience level in Forex trading, it works maximally easy, it just needs to be installed, preset to the desired mode; Durable or Turbo and determine the risk percentage value.
Honestly talking, FxStabilizer is not a super profitable tool, but it's reliable enough compared to most Forex robot available in the market now! It could make regular profits with relatively short periods of drawdown with amazing flexibility to all changes at Forex market.
Live Performance
FxStabilizer strongly recommends itself as a successful one trading on real money since 2013 till now, as proved by MyfxBook live trading results:
FXStabilizer_EUR - Turbo System by fx_skill | Myfxbook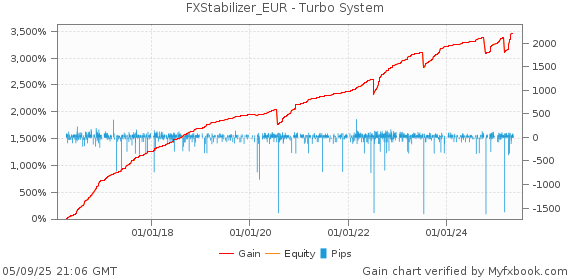 Get Back Up to 17.5% of The Spread On Generating the Required Turnover
FXStabilizer_EUR - Durable System by fx_skill | Myfxbook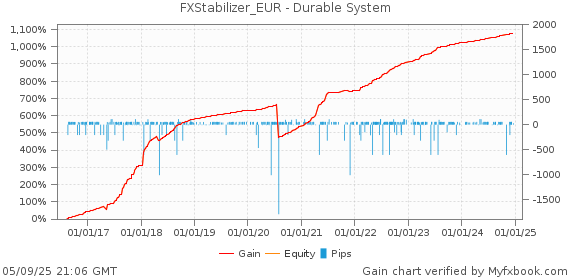 No Deposit $10 Welcome Bonus to Your First STP Account
FXStabilizer_AUD - Durable System by fx_skill | Myfxbook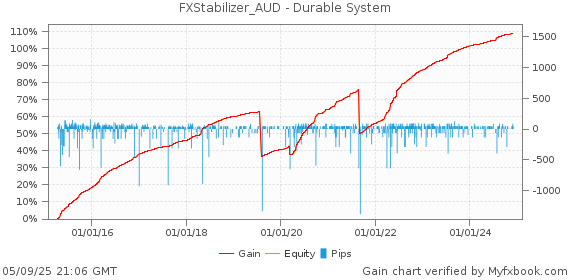 FX Stabilizer AUDUSD EURUSD Default System by fxrobotreviews | Myfxbook
$30 Welcome Account Just On Email Validation!
Backtests
Backtests were made through the longest period available of history center tick data since 1997 till 2015, this is to make sure that FxStabilizer is really reliable and profitable EA.
FXStabilizer EURUSD Durable since 2009
FXStabilizer EURUSD Turbo since 2013
FXStabilizer AUDUSD Durable since 1997
FXStabilizer AUDUSD Turbo since 2012
Bottom Line
FxStabilizer is a rebranding of FX-Builder best settings, the well known Expert Advisor making tool created by FX-Builder developers themselves, that is a great advantage for it over other similar tools.
FxStabilizer Info Summary
Pairs: EURUSD and AUDUSD
Timeframe: H1
Visit FxStabilizer Website
Buy FxStabilizer EURUSD
Buy FxStabilizer AUDUSD
Buy FxStabilizer AUD + EUR
Talk about FxStabilizer
Information, charts or examples contained in this review article are for illustration and educational purposes only. It should not be considered as an advice or endorsement to purchase or sell any security or financial instrument. We do not and cannot give any kind of financial advice. No employee or persons associated with us are registered or authorized to give financial advice. We do not trade on anyone's behalf, and we do not recommend any broker. On certain occasions, we have a material link to the product or service mentioned in the article. This may be in the form of compensation or remuneration.