Last Updated On
Wed Apr 06th, 2016
A fully automated beginner friendly Forex trading robot.
Trading Strategy
Adaptive Trading
Hedge Track Trader rarely needs to be manually adjusted on market conditions changes, it can adapt to them successfully as seen in the 2015 - 2016 market conditions that could fail many other strategies but this one.
Compatible With Small Accounts
It doesn't require high starting account balance, it can adapt to any account size and start trading with reasonable risk.
Conjectural Trade Management
It determines various target profit levels according to the current market conditions, trends, and certain volatility factors to manage trades dynamically.
Cross Currency Hedge Protection
In traditional hedge strategy, you buy and sell a currency pair at the same time allowing for the winner trade to proceed and cutting off the loser one, this is how you can make profits from hedging.
This is unlike Hedge Track Trader EA which perform hedging on different currency pairs and thus harvesting more profits with an always considered protection element.
Live Performance
3rd party verified live trading result statement could prove that Hedge Track Trader made an average of 442% profit per year.
Hedge Track Trader System by HTTrader | Myfxbook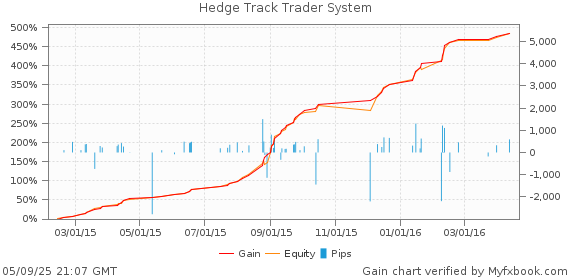 No Deposit $10 Welcome Bonus to Your First STP Account
FX Blue - Hedge Track Trader System
No Deposit $10 Welcome Bonus to Your First STP Account
Bottom Line
Not too many hedge trading Forex robots are available in the market, at least we didn't review too many Forex robots with such strategy in the past.
Hedging is known to be an art of professional traders as it requires high level of orientation and care during trading beside being the most time consuming strategy, by having this strategy in a Forex robot, many professionals that like hedging can spare a lot of time by employing it, on the other hand, beginners can have the skills of professionals that they should have gained by keep trading in front of the screen for hundreds of hours.
Hedge Track Trader price is considered affordable compared to prices of other Forex robots of the same level of profitability and protection, added to being compatible with small account sizes, so it could be a suitable option for beginners.
Promotional Video (by the Developer)
Hedge Track Trader Info Summary
Pairs: 20 Different Currency Pairs
Timeframe: M15
Visit Hedge Track Trader Website
Get Hedge Track Trader
Talk about Hedge Track Trader
Information, charts or examples contained in this review article are for illustration and educational purposes only. It should not be considered as an advice or endorsement to purchase or sell any security or financial instrument. We do not and cannot give any kind of financial advice. No employee or persons associated with us are registered or authorized to give financial advice. We do not trade on anyone's behalf, and we do not recommend any broker. On certain occasions, we have a material link to the product or service mentioned in the article. This may be in the form of compensation or remuneration.