Last Updated On
Tue Jan 03rd, 2017
Inertia Trader is a fully automated EA that doesn't need a trader to use it. It automatically enters trades and manages them. It's easy to install, configure and setup, a beginner without much computer experience can use it smoothly.
Trading Strategy
The Price Inertia
This is a value that can be detected during sharp price movements and it indicates whether this is a temporary movement or the beginning of a new price direction.
Inertia Trader is always monitoring the market for sharp price that whenever occurred, the EA determines its inertia, if the inertia is indicates a new price direction, the EA opens trades at the bar close in the same direction of the price momentum.
Stop Loss & Take Profit
Every new trade opened by Inertia Trader gets a hard stop loss and take profit values for protection just in emergency situations.
The take profit value is always about one third above that of the stop loss, this is how a positive reward for risk on every trade can be ensured, while the stop loss is is never set to a large value.
This generates a positive ratio that provides a strong market edge for Inertia Trader in the long term whatever the current or overall market conditions are.
Account Protection
Many filters and action delays are added to the EA trading function to guard against possible spiked spreads or abnormal slippage periods as those of abnormal news.
In general, Inertia Trader protects the account from any abnormal and risky movements.
Verified Live Performance
Inertia Trader System by babyjake1961 | Myfxbook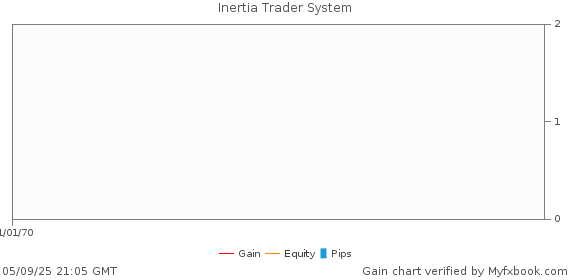 15% Bonus Up To 5,000 Units of your Account Currency
Backtests
v1010 - EURUSD - Jan 2004 to Sep 2016 - M15 - 99.9% Quality Tick Data - 10 Spread
Promotional Video (by the Developer)
Inertia Trader Info Summary
Version Used: v1010
Pairs: EURUSD
Timeframe: M1
Visit Inertia Trader v1010 Website
Get Inertia Trader Free 7 Days
Talk about Inertia Trader
Information, charts or examples contained in this review article are for illustration and educational purposes only. It should not be considered as an advice or endorsement to purchase or sell any security or financial instrument. We do not and cannot give any kind of financial advice. No employee or persons associated with us are registered or authorized to give financial advice. We do not trade on anyone's behalf, and we do not recommend any broker. On certain occasions, we have a material link to the product or service mentioned in the article. This may be in the form of compensation or remuneration.