Last Updated On
Fri Apr 22nd, 2016
The EA developers team is 12 industrial experts from New York City; a union of long-practiced Forex traders and software developers, started working together in 1998 and began developing Manhattan FX robot in 2008.
Trading Strategy
General Trading Features
As a breakout based Forex robot, Manhattan FX always sets a StopLoss for every trade to protect the account, in addition to its clever Money Management system that carefully determines trading opportunities and the suitable lot size for each of them.
Trading Limits
Manhattan FX Trading is limited to 10 lots (1000,000 units) in the 2-License version and 5 lots (500,000 units) in the other 2 versions, this is useful for disallowing unnecessary high positions and is considered a good safety measure.
High Spread Filter
By default, Manhattan FX this built in system forces the robot to cease trading during spreads widening as during summer and before news. This can be stopped manually if not desired.
Verified Live Trading Results
Manhattan FX System by fxrobotreviews | Myfxbook
$30 Welcome Account Just On Email Validation!
FX Blue - ManhattanFX EA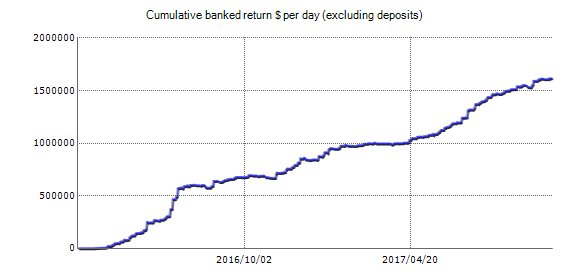 $30 Welcome Account Just On Email Validation!
Important Parameters
Buy Enabled: This option can enable / disable BUY orders excution.
Sell Enabled: This option can enable / disable SELL orders excution.
MoneyManagement: This is a switch between automated money managerment (if set to true) or manually setting a fixed trading lot size (if set to false).
Fix Lot Size: If MoneyManagement is set to false, here you can set the desired trading lot size manually.
Long trade risk: This is a percentage (%) value to set the maximum loss for every Long (BUY) trade.
Short trade risk: This is a percentage (%) value to set the maximum loss for every Short (SELL) trade.
** Please note that Long trade risk and Short trade risk refer to only ONE trade.
Maximum lot: This option determines the maximum lot size of the trades.
Balance Risk: This is the highest allowed drawdown as a percentage of the account balance, which if reached, Manhattan FX will stop trading to protect your account.
Backtests
EURUSD 2.5 years Money Management 5
GBPUSD 2.5 Years Money Management 5
EURUSD 5 Years Fixed Lot 1
Manhattan FX Info Summary
Pairs: EURUSD only for the Basic Version and EURUSD, GBPUSD for the Ultimate and 2-License Versions.
Timeframe: M1
Talk about Manhattan FX
Information, charts or examples contained in this review article are for illustration and educational purposes only. It should not be considered as an advice or endorsement to purchase or sell any security or financial instrument. We do not and cannot give any kind of financial advice. No employee or persons associated with us are registered or authorized to give financial advice. We do not trade on anyone's behalf, and we do not recommend any broker. On certain occasions, we have a material link to the product or service mentioned in the article. This may be in the form of compensation or remuneration.