Last Updated On
Fri Feb 24th, 2017
Trading Strategy
Multiple trading strategies are engaged into one another, the starting strategy is basically back Martingale for the first 3 - 4 orders, then depending on spread / steps, basic Martingale joins to increase Lot and win more profits.
After 7 - 8 - 9 orders,
MineSweeper EA
starts to minimize the risk of trend going so far.
The EA can also work with fixed Lot size. Limiting Lot size depends on the account balance (10,000 Lots with Max Lot Size of 1.0 are recommended by the developer).
The user is able to close orders opened by the EA at anytime, this option is not enabled by default and needs to be enabled in the EA settings.
Economical News
They significantly affect the market behavior and so the EA performance especially Wednesday news, so it's strongly recommended to close all the opened orders before Wednesday until Thursday for safety.
If the account balance is good enough and can withstand the impacts of the news on Wednesday, it's recommended to risk a little and keep the orders opened as they can then generate important profits.
Verified Live Performance Statements
Minesweeper EUR/NZD System by Minesweeper | Myfxbook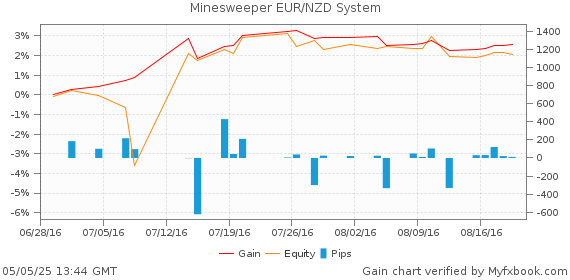 Get Back Up to 17.5% of The Spread On Generating the Required Turnover
Promotional Video (by the Developer)
MineSweeper EA Info Summary
Version Used: 1.08
Pairs: EURJPY, EURUSD, USDJPY, USDCAD, USDCHF, AUDUSD and GBPUSD
Timeframe: M1, M5 and M15 (Other Timeframes are Supported Too)
Get MineSweeper EA 1 License
Get MineSweeper EA 2 Licenses
Get MineSweeper EA 3 Licenses
Talk about MineSweeper EA
Information, charts or examples contained in this review article are for illustration and educational purposes only. It should not be considered as an advice or endorsement to purchase or sell any security or financial instrument. We do not and cannot give any kind of financial advice. No employee or persons associated with us are registered or authorized to give financial advice. We do not trade on anyone's behalf, and we do not recommend any broker. On certain occasions, we have a material link to the product or service mentioned in the article. This may be in the form of compensation or remuneration.