Last Updated On
Mon Aug 08th, 2016
RobinVOL is a fully automated Forex robot, developed by RobinTradingHub and conducted via OpenSistemas Service and Development Management Environment framework that involves osBrain multiagent software for trading environment.
Trading Strategy
Compared to the previous version, the latest RobinVOL v3.0 is a totally new Forex robot that included many improvements and new features in addition to some important features from its precursor v2.0.
It trades volatility breakouts. It enters positions in the breakout directions using two different strategies:
On Breakout Occurrence.
On Breakout Retracement.
Positions are added in the breakout direction on every bar as long as the conditions are met, RobinVOL only trades at the bar close protecting against some market spikes and fake movements.
If the TakeProfit or StopLoss levels are touched by the traded pair price, the opened trade is not closed at once, but RobinVOL waits for the bar closing to see if the price closes behind those levels, so every trade closing will always be a bit further from both the TakeProfit and StopLoss levels.
Portfolio Mode
This is a new capability in the latest version 3 of the EA, it can now run with multiple configurations at the same time via holding and manipulating the market data rapidly and precisely.
Order Management
Inline with portfolio mode, RobinVOL v3.0 can now efficiently manage all operations on the same currency pair and avoid unnecessary commissions to improve its efficacy.
Single Trading Mode
This is the traditional trading mode of the previous version 2.0, it's still operable in the latest version 3.0 where it's now more profitable thanks to the improvements made to the latest version, the most important of which is the ability to trade in non-standard timeframes as 7M and 12M for example.
Security and Protection
All the security features of the older version 2.0 as the weekend protection, bracket StopLoss / TakeProfit and setting an initial balance regardless of the real account balance are kept in the latest version 3.0 in addition to the new option to specify the size in the account currency for calculation operation sizes that was added to the EA settings.
Performance Variations Expansion
Multiple pairs are now supported with different timeframes that were carefully selected after deep performance analysis and testing with various techniques.
Graphical Interface
A redesigned graphical interface is now integrated to display important information on the chart in a simple and clean way to track information from different charts in one place.
Setting Files and Folders Structure
After installing RobinVOL v3.0, monthly updated setting files that are downloadable at the official client area have to be copied to EA folders every month, a new structure of these folders have been set to make this process easier compared to the previous version.
On updating the setting files at the beginning of each month, trades from the previous month will still be automatically managed even if there is no setting files.
RobinVOL v3.0 can also run with other Forex robots.
Live Performance
MyfxBook and FxBlue verified live performance result statements:
Robin VOL portfolio System by eafanclub | Myfxbook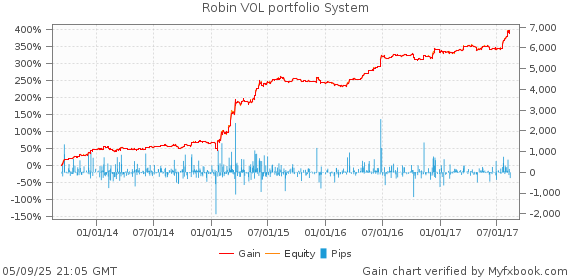 Robin VOL portfolio System | Myfxbook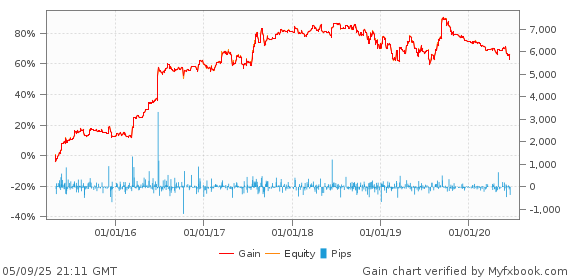 Backtests
RobinVOL 2.0 | year 2000
RobinVOL 2.0 | year 2001
RobinVOL 2.0 | year 2002
RobinVOL 2.0 | year 2003
RobinVOL 2.0 | year 2004
RobinVOL 2.0 | year 2005
RobinVOL 2.0 | year 2006
RobinVOL 2.0 | year 2007
RobinVOL 2.0 | year 2008
RobinVOL 2.0 | year 2009
RobinVOL 2.0 | year 2010
RobinVOL 2.0 | year 2011
RobinVOL 2.0 | year 2012
RobinVOL 2.0 | Strategy Tester Fixed Lots
RobinVOL 2.0 | Strategy Tester
Forex RobinVOL Info Summary
Version Used: 3.0
Pairs: AUDJPY, AUDUSD, CADJPY, EURAUD, EURGBP, EURJPY, EURUSD, GBPAUD, GBPUSD, USDCAD and USDJPY
Timeframe: M1, non-standard timeframes are supported.
Visit Forex RobinVOL 3.0 Website
Get Forex RobinVOL Yearly
Talk about Forex RobinVOL
Information, charts or examples contained in this review article are for illustration and educational purposes only. It should not be considered as an advice or endorsement to purchase or sell any security or financial instrument. We do not and cannot give any kind of financial advice. No employee or persons associated with us are registered or authorized to give financial advice. We do not trade on anyone's behalf, and we do not recommend any broker. On certain occasions, we have a material link to the product or service mentioned in the article. This may be in the form of compensation or remuneration.