Last Updated On
Sat Sep 26th, 2015
Swing Trader PRO is a manual trading system that is able to trade an unprecedented number of currency pairs (27 currency pairs) compared to other Forex trading system, steadily targeting more than a few pips out of each trade and requiring only a few minutes of work per day to trade!
Trading Strategy
Trading more pairs recovers from the fact that an accurate Forex strategy trades less frequently, so Swing Trader PRO achieves both accuracy in trading and high frequency trading (through trading more pairs) that generates more trade opportunities with more pips gained and profits increase.
Unlike most traders who prefer trading lower timeframes as M15, M30 and H1, trading higher timeframes as H4, and the DAILY gives you a more generalized view over the market behavior which gives you the ability to squeeze the most pips out od every trade.
After you open a trade following the system notifications, you'll need to provide it with the stop loss, take profit, and optionally trailing stop which are suggested by the system too, then the trading platform will manage the trades for you.
The dynamic risk vs reward ratio system included in Swing Trader PRO is based on the the linear regression calculations and depends on certain levels positions as there is no exact identifiable balance to risk vs reward, this aims finally to make more money than losing (maximize generated pips and minimize drawdown).
Generally, Swing Trader PRO will put the risk somewhere between half and equal to the reward, it's most reasonable to be 1:1 or even 5:1 risk:reward ratio.
System Alerts, Notifications and Trade Verification
Sound and box alert for the pair with a trade opportunity, so no need to watch over the 27 currency pair charts.
On screen arrow notification of the forming trade opportunity with entry point, stop loss, take profit, and trailing stop suggestion.
More few simple confirmations to verify the trade signal validity significantly increasing the win rate.
Live Trading Performance Proof
Swing Trader PRO System System by swingtraderpro | Myfxbook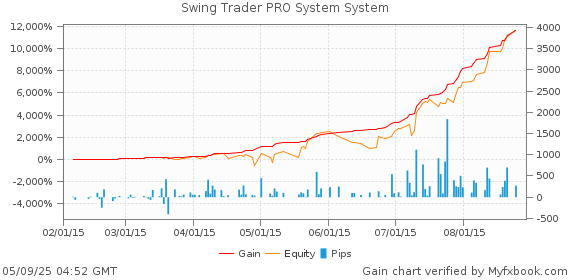 Bottom Line
Advantages of Manual Trading Systems Over Automated Ones
In manual trading you have the ability to:
Identify potential trade opportunities that could be missed by Forex robots due to simple discrepancy that exists an the majority of them.
Guess the current overall condition of the market and better recognize if it's suitable to trade or not.
Advantages of Manual Trading Systems Over Human Manual Trading
As a beginner or expert in Forex trading, Manual Trading Systems will allow you to dispense with:
Perform brilliant calculation to determine the best entry point and later manage the opened trade.
Study or understand currency charts to recognize the current market conditions and make your decisions trading.
Other assistant tools, every thing that could be needed is included, you'll just need to follow the system instructions, alerts and notifications.
Promotional Video (by the Developer)
Swing Trader PRO Info Summary
Pairs: 27 different currency pairs (see Live Performance Statement)
Timeframe: H4, D1
Visit Swing Trader PRO Website
Get Swing Trader PRO (FREE 5 Days Trial)
Latest Swing Trader PRO News and Updates
Talk about Swing Trader PRO
Information, charts or examples contained in this review article are for illustration and educational purposes only. It should not be considered as an advice or endorsement to purchase or sell any security or financial instrument. We do not and cannot give any kind of financial advice. No employee or persons associated with us are registered or authorized to give financial advice. We do not trade on anyone's behalf, and we do not recommend any broker. On certain occasions, we have a material link to the product or service mentioned in the article. This may be in the form of compensation or remuneration.