Last Updated On
Tue Aug 04th, 2020
Happy Gold EA was developed by the "Happy Forex" expert team of professional traders; the creators of Happy Market Hours and Happy News Forex Robots!
Trading Strategy
Modified ZigZag indicator compares between the price scale percentage set in the the EA parameters to the chart's extreme points and detects those being equal or higher than that price scale percentage.
The EA has built in money management settings and is newbie and experienced traders friendly.
Happy Gold EA is still profitable since 2010 as it adjusts itself continuously to the market, it keeps working programmed with 100% market evaluation and implementation. The EA XAUUSD best settings comes with it, all of which are editable to be improved according to the trader's requirements.
99.90% optimization in MT4 was used by the EA developers to code and refine it for the best stability and profits.
Happy Gold EA gets active making trades during certain hours, the price direction for which was previously analyzed and determined by the EA algorithms.
It allows setting the desired risks for trading and profitability, it opens trades every day.
More than 89% success is guaranteed by the software creators with verified results while very rare conditions during which the EA may fail exist.
Trading Style (Visual Backtest)
Happy Gold 1.9 XAUUSD May to Aug 2019 99.9% Quality Tick Data Visual Backtest
Backtest Summery View Full Backtest
MyfxBook Verified Real Money Accounts
Happy Gold EA v1.9 Tickmill Real PRO System by fxrobotreviews | Myfxbook
$30 Welcome Account Just On Email Validation!
EA Happy Gold ECN - REAL 2 | FXSTAT
EA Happy Gold (Closed account) System by HappyForex | Myfxbook
FX Blue - Happy Gold by ReviewForexRobots.com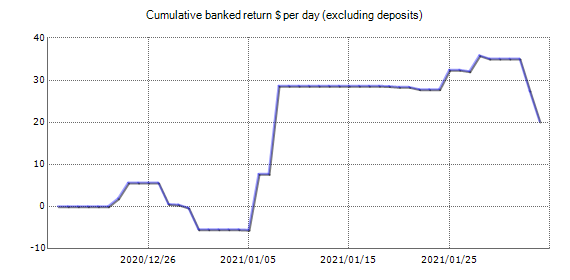 $30 Welcome Account Just On Email Validation!
Common Parameters
Happy Gold EA Max open trades is set to one.
It uses a hard stop loss of -24 pips and calculates dynamic take profit levels according to the market's condition.
A maximum spread of 40 pips is recommended with very low slippage (ECN/Market maker) and API Connections (Not condition).
10 Years XAUUSD M30 from 2010 to 2020 - 99.9% Quality Tick Data Strategy Tester Backtests
$10K to $10M using Real Spread
$10K to $3M using Variable Spread
$10K to $7M using Real Spread with Slippage Enabled
$10K to $3M using Variable Spread with Slippage Enabled
Promotional Video (by the Developer)
Happy Gold Info Summary
Version Used: 1.9
Pairs: XAUUSD (GOLD)
Timeframe: M30
Visit Happy Gold 1.9 Website
Get Happy Gold 2 Licenses (10x EAs)
Get Happy Gold 5 Licenses (10x EAs)
Talk about Happy Gold
Information, charts or examples contained in this review article are for illustration and educational purposes only. It should not be considered as an advice or endorsement to purchase or sell any security or financial instrument. We do not and cannot give any kind of financial advice. No employee or persons associated with us are registered or authorized to give financial advice. We do not trade on anyone's behalf, and we do not recommend any broker. On certain occasions, we have a material link to the product or service mentioned in the article. This may be in the form of compensation or remuneration.