Last Updated On
Sun Oct 04th, 2015
Goldbull PRO trades efficiently and is profiting continuously on its official major currency pairs since 2010 achieving a minimal drawdown with maximal profits!
It comes with many market leader innovations. It's a result of a full 8 years of hard work and development coding and finely tuning such a unique money maker trading algorithm with a built in money management settings and continuously get adjusted to the market.
It's a fully automated system, easy to setup, simple to activate and is both junior and proffessional trader friendly.
Trading Strategy
The breakout trading style of Goldbull PRO is not a new concept, it's been used by top professional traders for years for its characteristic large profits.
A breakout is the point where the market price starts to break away or exit the current trading range which is determined by a high and a low price for a certain period of time.
The accepted market concept "Buy Low, Sell High" is risky and has no role here, instead "Buy High, Sell Higher" in a bull market and "Sell Low, Buy Back Lower" in a bear market are the accepted concepts for Forex market breakout trading.
Unlike other trading systems, breakout style systems don't wait for market reversal which may delay for weeks or months or even years in some markets to enter, but it join a market trend in motion which is more likely to continue than a market reverse.
Goldbull PRO is an intelligent fully automated breakout system always uses StopLoss and carefully manages every trade with built in money management system!
Live Performance Results
GoldBull Pro Tickmill System by fxrobotreviews | Myfxbook
$30 Welcome Account Just On Email Validation!
FX Blue - GoldBull PRO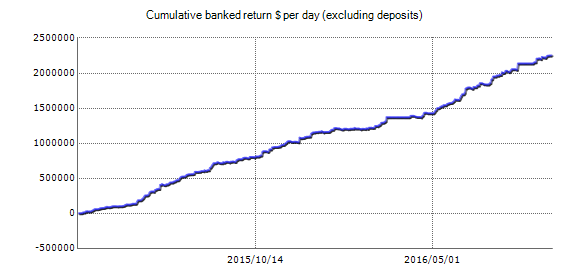 $30 Welcome Account Just On Email Validation!
Backtests
EUR/USD Normal Risk 2010 - 2015
GBP/USD Normal Risk 2010 - 2015
USD/JPY Aggressive Risk 2010 - 2015
Goldbull PRO Info Summary
Pairs: EUR/USD, GBP/USD, USD/JPY for the PRO and PRO Family versions and EUR/USD only for the basic Goldbull version
Timeframe: H1
Talk about Goldbull PRO
Information, charts or examples contained in this review article are for illustration and educational purposes only. It should not be considered as an advice or endorsement to purchase or sell any security or financial instrument. We do not and cannot give any kind of financial advice. No employee or persons associated with us are registered or authorized to give financial advice. We do not trade on anyone's behalf, and we do not recommend any broker. On certain occasions, we have a material link to the product or service mentioned in the article. This may be in the form of compensation or remuneration.