Last Updated On
Mon Jan 01st, 2018
After Ray Scalper developers have made many researches in the field of ray tracing, they finally could implement the concept into Forex trading via this EA which doesn't ignore the requirement of short term gains of the majority of traders. The EA includes a perfect portfolio diversification via a unique trading strategy that is unmatched among other currently commercially available Expert Advisors.
According to Ray Scalper trading strategy concept of ray tracing, Support / Resistance levels are considered as objects after being calculated using Fibonacci levels, weekly classical Pivots and other standard methods. The EA closes every 15 minute bar and shoots out rays in both long and short directions. It places a default target price (H1 ATR) at a distance of about 6 hours. If some Rays were able to touch the target without cutting across any calculated Support / Resistance level are considered good trading opportunities by the EA which then opens a long or a short trade guided by the best possible ray's direction. StopLoss is then placed at 4x the H1 ATR. This gives enough space for the EA to close trades which take more time to work in its favor.
This is a highly versatile entry logic for Ray Scalper developed and implemented by Phibase which enables the strategy to handle both low and high volatility price actions much better than the prior EA versions.
The scalping strategy of the previous version 2.0 is excellent but it only makes larger gains during certain winning phases when favorable price actions exist, which occurrence time is highly impossible to predict. The current Ray Scalper version 3.0 distributes gains better fairly with preserving the EA scalping nature. The EA Risk : Reward ratio which is 5:2, was the major of the Ray Scalper earlier versions cons which was solved via version 3.0 strategy and trade management system and it now delivers a Risk : Reward ratio of just 3:2 with a success rate maintained above 68%. The difference in the EA performance between some brokers was also reduced by the new strategy.
MyfxBook Verified Ray Scalper Live Trading
RayScalper FinFX ECN Reference System by Rayscalper | Myfxbook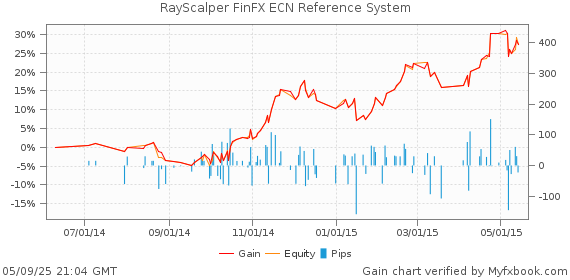 Ray Scalper V3 Reference Real Account System by Rayscalper | Myfxbook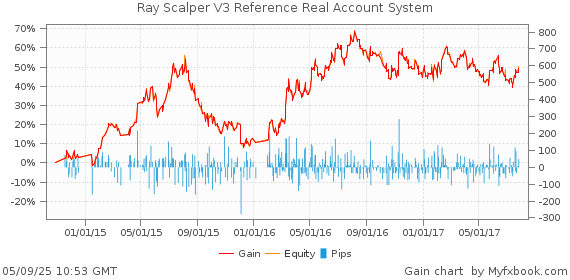 The below strategy tests were performed using a spread of 2.0 pips that is considered above normal for EURUSD. Lower spreads will greatly improve the final profits of the EA. Spreads up to 2.0 pips will have no effect on the EA Performance, while its profitability and trade exits might be affected if a broker with higher spreads is used.
The use tick data only for Ray Scalper backtesting is recommended as is works on every price tick. The live performance tests are perfectly in line with Dukascopy tick data backtests. Even high quality M1 backtests were unsuitable compared to live trading results.
Fixed Lots can be used in case the traders portfolio is made up of several EA's and the gains are always withdrawn on a monthly basis. This test is also useful to study the equity curve without the effect of compounding hiding drawdowns.
2007-2014 Tick Data - Fixed_LotSize 0.1
Ray Scalper uses geometric position sizing for money management. Max_Allocation_Per_Trade=8 is default which makes the EA trade with lot size of about 0.32 per $10000. The lot size is scaled relative to increase/decrease in equity. MAx DD of about 22% was seen in backtests since 2008. A max DD of 42% was recorded towards the end of 2007 - This could happen in future but is considered highly unlikely since the trading conditions prior to 2008 was very different from what is seen post 2009.
2007-2014 Tick Data - Max_Allocation_Per_Trade 8 (Geometric position sizing)
Ray Scalper EA Info Summary
Version Used: 3.0
Pairs: EURUSD
Timeframe: M15, H1
Visit Ray Scalper EA 3.0 Website
Get Ray Scalper EA
Talk about Ray Scalper EA
Information, charts or examples contained in this review article are for illustration and educational purposes only. It should not be considered as an advice or endorsement to purchase or sell any security or financial instrument. We do not and cannot give any kind of financial advice. No employee or persons associated with us are registered or authorized to give financial advice. We do not trade on anyone's behalf, and we do not recommend any broker. On certain occasions, we have a material link to the product or service mentioned in the article. This may be in the form of compensation or remuneration.