Last Updated On
Thu Sep 24th, 2015
It was coded and developed by Doug Price, the former money manager and trading systems developer for a confidential top trading firm as he claims. He promises and intends to constantly perfect his trading strategies especially REV Trader PRO as it's his most profitable trading system applying all new ways and tactics he might discover in the future to improve the settings and the strategy.
Trading Strategy
The robot doesn't apply any martingale or grid strategy; the misleading tactics that could grow your account rapidly but later it'll be destroyed completely. REV Trader PRO profits from the market volatility regardless of its direction, up or down, it just rides the wave.
It's not even a scalper, protecting your money from losses by commission, spread, slippage, and broker sensitivities.
Although it comes with a powerful set of controls to refine and adjust its performance, all are preset to extremely excellent default settings.
Trade Reversal Detection Technology
It allows the robot to detect the market potential reversals with high accuracy.
False Signal Detection Technology
It allows the robot to detect and avoid false trading signals and works in conjugation with the trade reversal detection technology adding an extra level of safety.
As wes clarified, REV Trader PRO, its entire strategy, analysis and tactics all run on H1 timeframe.
Once a potential winner signal is detected by the robot proper identification of the market pattens, all the systems do their checks on that signal.
One final confirmation is performed by internal switching to the the Daily chart and re-analyze to track the direction of the trend and compare it to the acquired signal on the H1 timeframe.
If there is matching between the analysis results, the trade is performed, if not, the trade is considered false, as the daily charts clears out the short term market impurities and make its general direction more obvious.
If a signal on the H1 chart appears to be a loser one while on the daily is in favor to it, its highly probable will recover in the profitable direction.
Account Risk Management
Through it you can preset a risk percent which you'd like to oppose your account to depending on its equity.
Trade Operation Management
It's more important than opening a trade, to select the best timing for its closure. This is a build-in dynamic trade management system that locks in profits to enhance your account growth and make this growth smoother.
Live Performance
MyfxBook is a trusted and verified 3rd party that urilizes the author's real money Forex account investor password and authentication to login to it and verify the data are correct and do some more analytic processes, all the results are shown in the statement published by this free service.
REV Trader PRO REAL | Myfxbook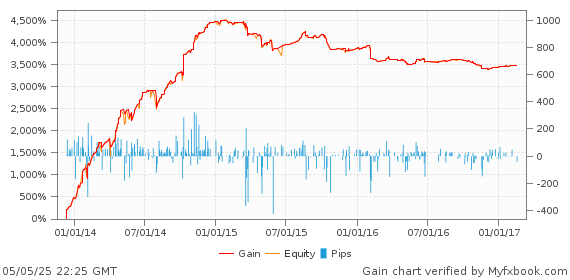 Additional Features
ENC / Multi-Digit Compatible
The software is compatible with different brokers shapes and sizes; ECN, NDD, STP, 4 Digit, and 5 Digit, various spreads, etc. This is not a big deal for the robot, it handles this all.
Alert System
An optional to set, on trade actions an alert will popup.
E-Mail Notification
It can be set to e-mail you whenever a trade is opened.
Bottom Line
Being a relitively expensive software is an additional advantage so that not too many trades will be able to use it and it won't be abused or diluted in the market.
The author claims that this software was once a private property used only by the wealthiest of clients, and you can now get it.
The copies sold are not limited by the author by a certain number, but as he claims, his ability to cover the personal SkyPe support for his client is what will limit the sales, once he would be unable to accomodate more clients for the software support, the doors will be closed for additional sales.
Promotional Video (by the Developer)
REV Trader PRO Info Summary
Pairs: AUDUSD, GBPUSD, EURUSD, and NZDUSD
Timeframe: H1
Get REV Trader PRO 3 Payments
Get REV Trader PRO 1 Payment
Talk about REV Trader PRO
Information, charts or examples contained in this review article are for illustration and educational purposes only. It should not be considered as an advice or endorsement to purchase or sell any security or financial instrument. We do not and cannot give any kind of financial advice. No employee or persons associated with us are registered or authorized to give financial advice. We do not trade on anyone's behalf, and we do not recommend any broker. On certain occasions, we have a material link to the product or service mentioned in the article. This may be in the form of compensation or remuneration.